Is the show a mystery medical drama or a forensic crime drama of the 70s… A newly discovered 45-year-old draft of Quincy's speech provides new insights into our crime-fighting whodunnit detective crime scene investigator! Read on to find out more about what it means for Quince to be a true expert in the field!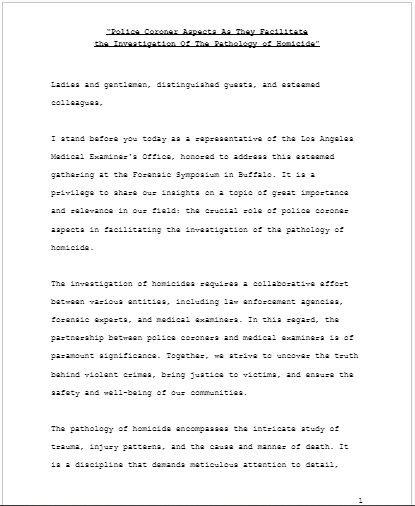 In an exciting development for fans of the classic NBC-TV series Quincy, M.E., a recently discovered episode-related forensic pathology draft of a speech entitled, "Police Coroner Aspects as They Facilitate the Investigation of the Pathology of Homicide," has surfaced online. This fascinating draft, penned by the renowned Dr. R. Quincy, sheds light on the crucial role of police coroners in solving homicide cases. Thanks to the efforts of the fan-based Quincy Examiner website and the magic of ChatGPT, this insightful speech is now available for viewing.
The Intriguing World of Forensic Pathology
Dr. R. Quincy begins his draft by delving into the captivating realm of forensic pathology. With his trademark passion for justice, he emphasizes the importance of accurately determining the cause and manner of death in homicide investigations. A meticulous examination of the deceased's body, combined with various laboratory techniques, allows forensic pathologists to unravel the mysteries surrounding violent crimes.
The Essential Role of Police Coroners
Quincy's speech then focuses on the indispensable role played by police coroners. These skilled professionals act as a vital bridge between the field of forensic pathology and law enforcement agencies. As first responders to crime scenes, police coroners are responsible for assessing the initial circumstances and potential foul play involved in a death. Their ability to swiftly identify crucial evidence and communicate effectively with investigators is instrumental in shaping the direction of a homicide investigation.
Collaboration and Expertise
Dr. Quincy underscores the importance of collaboration between forensic pathologists and police coroners. By sharing their respective areas of expertise, these professionals form a dynamic partnership that maximizes the potential for solving complex cases. The draft speech highlights Quincy's belief in the need for regular training and education, as both fields are continually evolving. This commitment to ongoing professional development ensures that police coroners and forensic pathologists are equipped with the latest techniques and knowledge to combat the ever-changing landscape of crime.
Conclusion
In the recently discovered episode-related forensic pathology draft of Dr. R. Quincy's speech, "Police Coroner Aspects as They Facilitate the Investigation of the Pathology of Homicide," we gain insight into the intriguing world of forensic pathology. Quincy's focus on the role of police coroners highlights their indispensable contributions to solving homicide cases. This unique perspective sheds light on the often-underappreciated work of these professionals in bridging the gap between the field of forensic pathology and law enforcement. Thanks to the Quincy Examiner website and ChatGPT, fans of the series now have the opportunity to explore this previously unknown piece of Quincy's investigative wisdom.
Disclaimer: The content of this blog post is a work of fiction based on minor mentions and details provided in the TV series Quincy, M.E., Season 1, Episode 2 entitled, "Who's Who in Neverland" and is not affiliated with or endorsed by NBC or any official Quincy, M.E. syndicated TV series streaming platforms.
If you found this article enjoyable, please consider making a donation for as little as $3 to support the maintenance of this website.
Chief online influencer of all things Quincy. Currently, I operate as a content creator & editor to The Quincy Examiner – Online Home to the godfather of all today's forensic detective TV series. When time permits, I run the gauntlet with young and old family members as we surpass this post-COVID pandemic! I follow up with all communication but the social links below are probably the best way to find me quickly! Enjoy the site and come back again soon… that's doctor's orders! Be well!